(To enlarge the photos just "click" on them and then to the "back" button in your browser to return to the text)
We planned this trip to the east coast of USA during summer of 2017. Last time we were in US was back in spring of 2011 and we had visited the west coast. Now it was time to see the east coast of US, especially Maine.
Our plan was for a two week trip starting in New York and ending there. We were in New York in January of 2001 and we don't remember much of it. So, the plan we made was like this:
3 nights in NY / 1 night in Warwick Providence(RI) / 2 nights in Portland, 2 nights in Camden, 2 nights in Bar Harbor (all in Maine), 3 nights in Boston and 1 night in NY on our way back. We started on a Saturday and ended in a Saturday.
The reason we chose late September was that from our experience to Northeast Canada 3 years ago we knew that the "Indian Summer" would be there and the scenery would be beautiful. Our predictions were correct and we had a fantastic weather and lovely scenery all through our trip.
I would like to leave our NY and Boston experience to the end and would start with our journey beginning from NY, the reason being that both NY and Boston are big metropolitan areas and they are very different from the other places that we visited.
Day 4 (Day 1/2/3 at the end):
We rented a car around 11 am and started our journey to northeast from NY taking the I-95. During our trip we used I-95 only going out of NY, on our return from Bar Harbor and Boston to NY, and in some other short routes. Other times we used US 1 which has an excellent scenery. On I-95 you don't see much. Therefore my advice is that if you plan a trip to this area use US 1.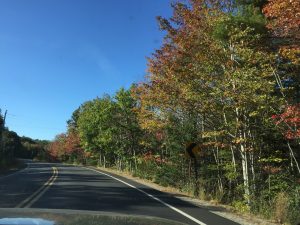 US 1
We stayed in Warwick near providence Rhode Island the first night. Going to Warwick we passed through many nice towns on the way like Greenwich, Stamford and Bridgeport. Among all of these I would like to mention Greenwich and Stamford which we stopped for lunch. Especially Greenwich is a very rich area with many exceptional houses. Both of them are lovely towns and very well established. In Bridgeport there is a very nice park called the Seaside Park and we spent sometime there as the weather was fantastic.
We continued on US-1 and it was about 5 pm that we arrived to our hotel in Warwick. This hotel – NYLO Providence Warwick –( note that I have written my comments about the places where we stayed and ate on Tripadvisor) which we booked online turned out to be a business hotel out of town almost in the middle of nowhere. Hotel itself was good and we had no complaints. Therefore we  surfed the internet and found a restaurant neraby called the "Iron Works Tavern". It is located in the ground floor of Hilton Garden Inn and to our surprise it turned our to be an excellent place to dine. This is a very interesting restaurant with a very interesting setting. We went there without a reservation but they managed to find a table for us without any problem despite the fact that it was crowded. We had a French style onion soup and swordfish which were very good. I would recommend this restaurant if you are in this area.
Day 5:
After having breakfast in our hotel – which has a sitting on the patio outside by the river which flows behind the building – we continued on our journey. This time we took the I-95 to go around Boston heading towards Salem. As you may remember this town is famous for its witch hunt and executions in the 17th century. So we put this town in our itinerary. What we did when we arrived here was first to visit the "House of Seven Gables" which is one of the two places you have to visit when you are here in Salem. We took a guided tour of the place and observing it had a very interesting story and we had a good feeling of how life was in 16th and 17th century in this part of the world. This house is also the subject of the famous book written by the American writer Nathaniel Hawthorne. We were told that he lived in this house and was inspired by it and wrote it.
This tour took about an hour or so and it was lunch time and we looked for a small café or something to grab a bite.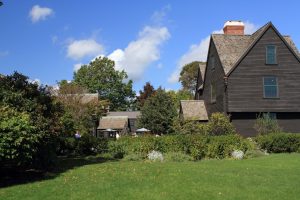 House of Seven Gables
View from Salem                                        and              Salem Witch Musem
At this point I have to mention about this problem in US. In all of the small towns that we visited we always looked fo a small café where you could have a sandwich and a coffee or tea or a snack like we have in Europe. However to our dissapointment we could only find such a place in three places. In Peaks Island Portland, Camden and in Boothbay Harbor on our way to Camden. Other than that you have restaurants and if you want a quick bite you don't want a restaurant. Also to our surprise these small towns do not have Starbucks! We really longed for small sidewalk café's like you see in every corner in Europe.
Another issue in these small towns is that people have dinner around 6 pm and the restaurants close around 9 pm. In my country we start dining around 8 pm until midnight 😊.
Whatever; we skipped lunch in Salem and wanted to visit the "Salem Witch Museum". However you have to take a guided tour of this museum and you cannot go around by yourself. The tour starts every hour and takes about an hour. When we went they had already started and we were late and had to wait an hour and we did not want to do that, therefore we skipped it and continued our journey toward Portland.
On our way was the nice town of "Manchester-by-the-Sea" the place where the famous film was made with the same name and won two Oscars this year. It is a really a very nice and beautiful town. We saw some places where we had seen in the movie.
Manchester-by-the-Sea
It was coming late and we had some more road to cover to Portland and we continued on the US1 but after some time the traffic became too crowded and we decided to take the remaining of the road on I-95. It was about 6 pm when we arrived at Portland and thanks to the GPS we found "The Inn at Park Spring" very easily. This was an old building and the owner was an ex-flight attendant and he had made a very good inn.
We got good advice on where to eat in Portland from the manager Debbie. Portland is a very safe city and you can walk very comfortably during night. All the attraction is by the harbor and in the streets parallel to the coast road. Taking Deb's advice we found the restaurant "DiMillo's". As you can imagine Maine is home of lobster. DiMillo's is a very good place for this and they have very many different types of lobster dishes. I went for "The lazy lobster" where they bring you the lobster already seperated from the shell so that you don't have to work on it. After having a magnificent dinner we went back to our Inn and got ready for the next day.
Day 6:
After getting advice from the owner of the inn – Buddy – on what to do in Portland, and after a fantastic breakfast we set off. We first had a tour of Portland by car and then we decided to take the ferry to Peaks Island which is just across Portland and it takes about 20 minutes ride with the ferry. This island is a very lovely place but you have to rent a golf cart to go around as there are no taxis or public transport. So we did and had a very good time.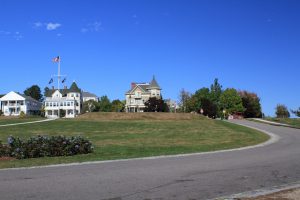 Portland
We asked if there was a nice restaurant by the sea where we could have lunch but this time they told us that we had to go to the grocery store and buy some sandwiches and drinks and have a picnic at the seaside – which we did 😊. America is interesting! On our way back we found a café very close to the ferry landing but it was 1.50 pm and the lady said she was closing at 2 pm just enough time for a cup of coffee. The reason she closed so early was that she opened at 5 am for the commuters! No wonder no reataurants, American way of life…
Never mind we always found something to eat.
Peaks Island is a very nice place and with a golf cart – if  you don't stop – it takes about half an hour to tour the island. So we stopped at different places and on one of them we had our picnic lunch.
Views from Peaks Island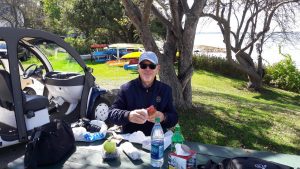 Picnic at Peaks Island !
Well the time for the ferry approached and we headed back to the mainland.
Back in Portland we decided to go to south of Portland to "Crescent Beach Park" and "Fort Williams Park". The former has huge white sand beaches but it is very desolate. We took some pictures and we headed back to the latter. Fort Williams Park is very famous as it has the "Portland Head Light" or "Cape Elizabeth Lighthouse" one of the most famous lighthouses in Maine. The scenery here is fantastic and it was full of tourists.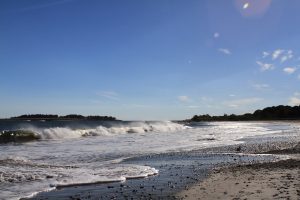 Crescent Beach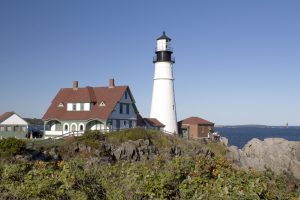 Portland Head Light
After taking photos and visiting the place we headed back to our inn to have some rest to gather strenght for the dinner action.
Walking down towards the harbor and looking for a place to dine we came across a shop called "Güven Anantolian Art" and we went in. It was a surpirse for us finding a Turkish young man owning this place. He told us that he had immigrated to Portland 8 years ago and he was from Capadoccia and that he imported Turkish artcraft from Turkey and sold in his shop – and the business was good.
This guy recommended two restaurants to us. The first one was full and we had to wait at least an hour, so we went to the second one called "Street & Co." which is in a narrow side street. However it was full but they managed to find us two seats at the bar and it was OK. We had sea food and it was delicious. We really enjoyed eating here.
So we were back again at the inn looking for the next day.
Day 7:
Nowadays it is easy to get a lot of information on the internet before you start tavelling. You can even see the places on Google Maps' Street View. I wonder if you should spend all the travelling money or just sit in front of the computer and look at the screen. I'm just joking 😊. Nothing gives the pleasure of travelling. However it is good to gather infromation before you start so that you can choose the places to go when you have limited time.
That's what we did. On the road from Portland to Camden which was our next stop there are so many lovely places to see. And I followed a suggestion,which I found on the internet, made by someone on this route. What we did was after taking off from Portland we followed the US1 as usual until Bath where there are shipyards and also a huge Marine Maritime Museum. This was well worth visiting. The Bath shipyards were very famous in the old days – they are also very active now – and they had built the world's biggest wooden schooner the "Wyoming". This is an interesting name and we have learnt that the owners of this ship was from Wyoming and they had named it after their state!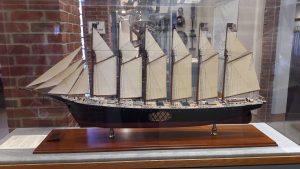 Model of the "Wyoming"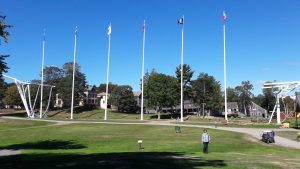 and its actual size
What they have done in this museum is that, just at the exact land where this ship was built they have made a represenation of this ship in full scale with 6 masts. When you look at it you see that this was a huge ship.
Nowadays at the Bath shipyards they are building USA's newest war ships like the Zumwalt class stealth ships.
After Bath we headed southward on this peninsula and initially we were going to go to the end of it to a place called Popham Beach. However on the way I saw a sign "Sebasco" and with a turn of the steering wheel we started going towards this place. When we arrived we saw a sign "Sebasco Resort" and also another one with "Wellcome Harvard Business School". This place is an outstanding bay with a resort and a golf course and what I understood was that there was a meeting or some "team building" exercise of Harvard Business school students here. We found a very nice restaurant called "The Pilot House" and we had a very good lunch. It was a good decision to come to this place as I was not sure if we would find such a good place to eat in Popham Beach.
Sebasco Bay
After a good rest we started back to Bath and took the US1 again and drove up to Wiscasset where we again turned south towards Boothbay Harbor.
Now this town is surely a touristic place and it was full of tourists. However it was one of the few places where we found a nice café where we could sit on the sidewalk and drink our coffees.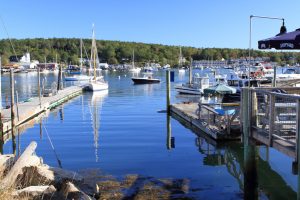 Boothbay Harbor
After our rest here we went up north and again took the US1 and continued until Camden. When we reached our place "The Hawthorne Inn" a nice surprise was waiting for us. First of all Camden is lovely town and our Inn was a fabolous building.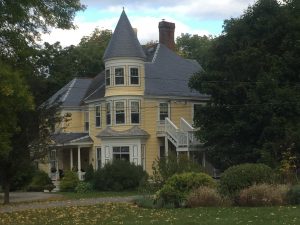 The Hawthorne Inn in Camden
They gave us a very nice and big room with a huge bathroom. It was very well established.
We stayed at three different "Inn"s. In America they call these "Inn". In Europe it would be called "Boutique Hotel". All of them were very good, clean and very comfortable. I would like to mention about the breakfast that they serve in these. We are used to a Meditarenean type of breakfast which is basically an "open buffet" style where you have maybe 20 – 25 different things to choose from. However the "American Style" breakfast is different. First they serve you a hot "sweet", like poached peaches or waffles or something similar. Then you get a big plate of cooked breakfast. They were OK and we did not have any complaints actually. It is a different kind of culture that's all.
Lisa the owner recommended us a restaurant called Fresh & Co. I sent an e-mail to book a table and got a quick reply that we had a table. When we arrived we found out that Ms. Rada Valkova and her husband was immigrants from Bulgaria and she spoke some Turkish words! Ms Rada was attending the tables and her husband was the chef. We had a very good dinner and the price was very reasonable.
Day 8:
The next day we started exploring Camden. However this day the weather started to become a little chilly and we had to put on some thick clothing. Until this day we had fantastic weather, temperatures around 25 – 28 deg C. First we started going to Camden Hills State Park and climbing to the top of Mt. Battie. This is a place where you can see Camden and the surroundings from the top of the mountain and has excellent views. This is also the place where the young poet Edna St. Vincent Millay was inspired and wrote her famous poem "Renascence".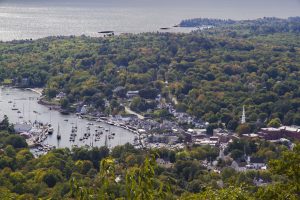 View of Camden from Mt. Battie
Then we headed back to the town and that day there was an art and book fair just by the main street. There were many booths which contained different artifcats produced by the local people and a huge tent where they sold used books, CDs, etc. It was very interesting that in such a small town there was this activity. Actually in the inn that we stayed we found a sheet of paper on the breakfast table every morning. This was written by our innkeeper and it mentioned all the activities in town for that day. It was amazing how much activity you could find in such a small town. It showed the cultural level of that area.
Camden harbor                                                         Camden art and book fair
We passed sometime in the show and then we headed down to the port to take our tour on the schnoor "Surprise". It was for the first and last time that we ate "hotdog" for lunch in USA 😊. If you come to US you should not go without eating this. Actually it was nothing special but just for the fun of it we had it before boarding the boat. Fortunately nothing happened to our stomachs!
The schooner "Surprise" was quite an old boat but it had been kept very well and our captains were very polite and helpful. We were a group of about 12 people. We headed out of harbor and to the Penobscot bay and to our luck we had a fantastic weather with a light breeze just perfect for sailing.We learned a lot about lobster fishing on that tour. For example a person could have a licence to lay not more than 800 lobster baskets. Each basket was tied to a bouy and each person had a different bouy color. Also if you stole from someone elses basket it was a capital crime! On the other hand you had to check and pick up min. 200 baskets every day and if the lobsters were heavier than 2.5 lbs you had to throw it back because they were good for breeding an increasing the population. The captain said that a lobsterer could make up to $200 K every year.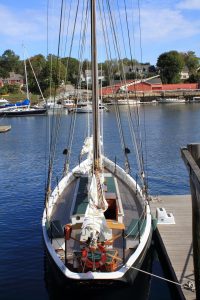 Schooner "Surprise"
On the Schooner "Surprise"
After this very pleasant ride we came back and despite the weather being sunny it was chilly so we went to one of the other café's we enjoyed during this tour. This was located very close to the port and it was inside a library. After our hot coffees we headed back to our inn and had rest before we went out to dinner.
For dinner we chose the next best restaurant in town Peter Ott's. I wanted to book a table for two and sent an e-mail and they replied that they did reservations for groups of 6 or more. So we tried our luck and we were able to find a table. The dinner here was sea food and it was OK pricewise also.
Day 9:
Today we were heading towards Bar Harbor. Our last stop on the Maine coast. Following the suggestions we read on the internet we went first to the place called "Fort Knox and Penobscot Narrows Observatory". This is a fort built in the 18th century on the mouth of Penobscot river and also there is a suspension bridge called "Penobscot Narrow Bridge". On top of one of the towers of this bridge they have built an observatory and you can reach it with an elevator and enjoy the scenery.
We spent some time in the observatory and also we visited Fort Knox. Actually at the entrance of  this park you pay to visit the observatory and the fort. It was fun but it was time for lunch and and we took the road again. There is a small town called Bucksport very close and we were able to find a very nice restaurant and had a good lunch.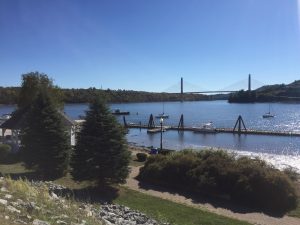 View of Penobscot Bridge from Bucksport
View of Penobscot river towards Atlantic Ocean (South) and view of Bucksport(North) from the observatory on the Penobscot Narrow Bridge
After lunch the weather was so warm that we decided to open the top of the convertible car that we had hired and drove all the way to Bar Harbor with the top down. This was the first time that we drove a convertible and it was really fun.
 Indian Summer
Arriving to Bar Harbor we took the advice that was sent yo us by e-mail by the owner of the inn that we were going to stay telling us that there were road constructions and guided us to Bar Harbor from an alternative route. This was very useful.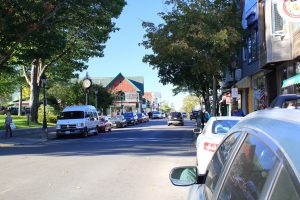 View of main street in Bar Harbor
Arriving to our inn called "The Atlantean Cottage" we were greeted very friendly by the owners Nadine and Brad and they gave us tips on what to do.
Bar Harbor is also a nice cute small town and was full of local and foreign tourists. As it was still  afternoon we went to discover the town. What we first did was that, coming to Bar Harbor we had passed by the airport and we had seen the signs of glider flying. We found the town office of this activity and we booked for 2 pm the next day. I had a PPL (Private Pilots Licence) and being a fan of flying, I had never flew in a glider and this looked very promising. I will mention about this adventure down below.
Bar Harbor is located on the east coast of Mt. Desert Island. When I asked why it was called a "desert", because it is an island filled with forests, I learned that this name was given by a Frenchman and it looked like a desert to him. I can't understand the reasoning!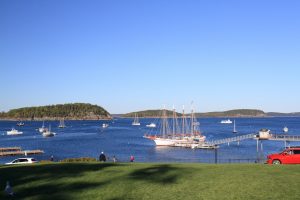 Bar Harbor
Just across Bar Harbor there is a small island called Bar Island and there is a trail which you can walk to it. However on high tide it is covered with water and if you are on the island you cannot come back and have to wait for the low tide. As it was high tide, we just looked at the island from the port.
We had dinner in a nice Italian restaurant that evening and met an Indian couple whom gave us lots of tips about Boston which we were going to stay on our way back.
Day 10:
Today after a very nice breakfast – as usual – we went out to discover the Acadia National Park which covers most of this island. What you do is that you first go into the park and find the visitor center and get a ticket for a day as there are check points on the park road checking your ticket.
Then we started to tour around the island taking the Park Loop Road. Actually if you don't stop anywhere you can go around this road in 40 – 45 minutes, but there are very nice places on the way. First of all there is the "Thunder Hole". This is a rock formation on the coast and they told us that in windy weather where you have high waves when they break at this point you here a thunder noise. Unfortunately (or fortunately ?) the weather was so calm that there were hardly any waves and we could not here the thunder. After this place another place to see is the Jordan Pond or lake. This is a huge lake in the middle of the island. There was a restaurant and some facilities but it was such crowded that we could not even enter. We took our photos by the lake and continued to Cadillac mountain.
One of the small ponds in Acadia                         Thunder Hole
Lake Jordan                                                           View of Bar Harbor from Cadillac Mountain
This is the highest peak on this island where you can have a 360 deg view of the island from here. By the time we finished visiting this place it was about time that we headed for the airport for our glider ride.
As I mentioned the glider ride place is in one corner of the airport. We checked in and as we did so the glider came down and a couple came out full of smiles. They said it was fantastic and they were right.
Our pilot Jeff which turned out to be an acrobatic pilot also was very kind and he gave us a lot of instructions. The glider actually is for two persons, one in the front amd one in the back. However they have managed to squeeze two people at the back. It is a bit tricky and my wife had to sit a little bit sideways her legs on my lap 😊.
Then we hooked up to the tow plane and off we were. We climbed up to 4,000 ft. the tow cable released and then we had an amazing time for half an hour. Jeff is an expert pilot and he really knows what he is doing. This was once in a lifetime experience after our sea plane adventure in Canada. It was fantastic! What they have done is that thay have mounted a GoPro camera on the right wing facing towards the cabin and this takes video of your flight and later after the flight they give you the chip. So now in our archive we have the whole flight in video plus the ones we took with our smart phones.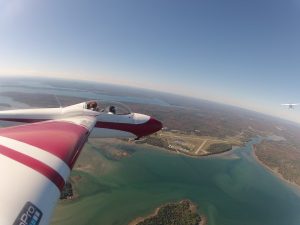 The Glider
After this adventure we came back to town and it was time for us to buy small presents to our friends. We found quite interesting stuff about Maine and it was worthwile.
For dinner we chose the restaurant Havana, the reason being President and Ms. Obama had dinner here and the comments were very good. However we did not find this place extraordinary. It was a nice restaurant with a very big wine cellar but the food was not extraordinary.
Day 11/12/13 – BOSTON:
It was time to start turning back. We had a long ride to Boston and therefore we took the I-95 all the way back. The traffic was quite heavy but we made to Boston without any problems.
We stayed at a hotel called "Revere Hotel Boston Common" and it was located in a very central place. In this hotel the breakfast cost $25 per person and as we had got an advice from the Indian couple that we had met in Bar Harbor for breakfast we went to a place called "Flour & Co." which was 4 blocks away. It turned out that this was a very popular breakfast place and had all kinds of delicous pastry, tea and coffee. It was very cheap and we would have a very good breakfast for $20 for two people. We used this place for breakfasts on all of three mornings.
In Boston we had dinner in 3 different places. The first night we found a good place close by which was crowded, meaning that the food was good.
The 2nd night we went to an Italian restaurant called "Sportello" again suggested by the Indian couple. It turned out that this place was very popular and the dishes – contrary to US style – were quite small. The food and wine was very good however the prices are quite high.
The 3rd night was lobster night and we ate at the "Legal Sea Food" restaurant which was just across the hotel. This is a chain in US and their lobsters are excellent. If you want to enjoy you have to eat a whole lobster with your hands 😊 and this is what I did.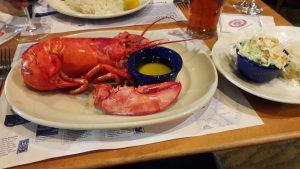 His Royal Highness The Lobster !
In Boston we spent two full days and three nights. On the first day we headed south towards a shopping outlet called "Wrentham Mall". If you have been to the US you would know that these outlets are sometimes crazy. You get a lot of good bargains and yes we did. On some shops you get 50 + 20% discounts from the normal prices in the city.
What we also did in Boston was to get a ticket on the "hop on – hop off" buses and we had a good tour of the city. What I like about this is that you see a lot of places sitting in this big bus, the driver explaining everything and you don't get getting tired. The ticket also included a one hour cruise in the Boston Bay which we took it also. The weather being nice we sat outside the boat and listened to the guide a young guy who had just married a week ago.
Boston Skyline                                                    Boston State House
One of the other things we did in Boston was to attend the "Tea Party Show". In US "Business is Show Business", they know how to do it. Maybe some of you have read about it. Back in December 16, 1773, after officials in Boston refused to return three shiploads of taxed tea to Britain, a group of colonists boarded the ships and destroyed the tea by throwing it into Boston Harbor. So what they have done is that they have designed a show which includes role playing and they take you through all stages of this event. You board the replica of one of the ships and you throw bags of "tea" into the water. This show was fun. Of course they also mention Paul Revere who made his famous horse ride to warn locals of the coming British troops.
Boston Tea Party Show
Well Boston being a big city has its own noise. After staying in these small quite towns in Maine, Boston and its noise was not good. However, New York is worse. All big cities have their own characteristic noises a mixture of traffic and road construction usually or in some cities like Mumbai or Istanbul you hear a lot car horns always.
Did I like Boston? Well the area where Harvard and MIT is – that is Cambridge – is nice. Also there is a very nice street in this area full of nice café's and shops. Apart from this the business area is a business area nothing special. Of course on the outskirts there are poor neighbourhoods.
Nevertheless we had a good time here.
Day 1/2/3 and 14/15 – New York:
The Big Apple is a world on its own. Many things have been said, about NY, which I don't want to repeat here. I just want to mention some things that have caught my attention. Actually when I say NY I am talking about Manhattan here. There are other parts like Bronx, Queens, Brooklyn,etc. But I have only seen these parts passing through to and from JFK airport.
We were here 17 years ago and much hasn't changed. However this time I found New York cleaner than I remembered. One of the amazing things is that everyone puts their garbage on the sidewalk at night and around 5 am the garbage trucks come and collect it and in the morning all sidewalks are clear.   On the other hand on nearly every street there is a road construction. The traffic is very bad. I thought Istanbul was bad. NY is worse. It took me to travel 10 blocks in one hour by car on a Friday afternoon. Of course another problem in Manhattan is parking. The parking fees are outragous. The photo below is a price list of a closed parking in Manhattan. Don't need to say much!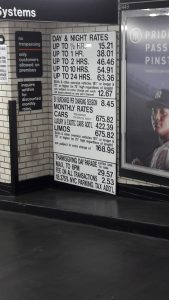 Parking fee in Manhattan!
There is the constant commuter action on the subway, the bus, people walking or nearly running from here to there with a cup of coffee in their hands, wearing business suits and dresses, talking on their mobile phones or with headphones listening to music while on the go, trying to reach their jobs or meetings on time.
Another intersting thing which caught my eye was the odd shaped water tanks on nearly every roof top. These are as to my understanding for fire fighting mainly but they look so much out of place and in contrast to the scenery.
One of the water tanks on top of a roof   and  New York's famous hotdog stands
Also the first day that we were there while walking towards central park we came across a very big motorcycle parade. We learned that this was called "The Gentelman's Ride" and it was organised in many different cities around the world and its purpose was to raise funds to fight prostate cancer. There were maybe more than 500 motorcycles and majority of the riders were wearing suits with ties or bow ties. We had never come across this before.
Gentleman's Ride                                                   The High Line
We did a lot of things in the short time we spent here but I think the best two things we did was going to a Broadway show – Kinky Boots – and the second is going to a jazz club. The first one was a real success and apart from the magnificent show I would like to share an experience we had at this show. We had bought our tickets on the internet and they were somewhat on the back rows and when we arrived and took our seats we noticed that the aircon was blowing full throttle just from the top of our heads. Me and my wife were just recovering from a flu at the beginning of our journey and if we sat there, defiently we would leave the theatre with pneumonia.
I would like to mention how these Americans are mad about aircon and ice water. In every restaurant or café that you go if you ask for water they bring you a glass full of ice to the brim and just add water. I would ask for room temperature water and the waiter would look at me like asked for something impossible! It is the same with aircon.
Let me continue. So we found an attendant and told her our problem and she directed us to the manager of the theater. We explained him the situation and he asked us for a moment and dissapeared. He came back two minutes later with new tickets in his hand. He had given us center seats at the 2nd row away from the aircons! This was fantastic! We really appreciated his attention and help. Sometimes Americans can be very practical.
The other best thing was the Dizzy's Club Coca Cola Jazz Bar. This is located on the 5th floor of Time Warner center in Columbus Circle. We had to make a reservation and it was good that we did otherwise it would have been nearly impossible to find a place. That night there was a band of 17 people playing especially latin jazz and they were extraordinary and we really enjoyed the two hours we spent there.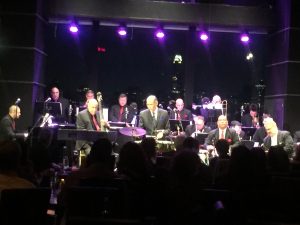 Dizzy's Club Jazz Band
In Manhattan we visited other places like the Central Park, Whitney Museum,Top of the Rock and The High Line. The last one is very interesting as it was a railroad many years ago built on top of the street but now it has been turned into a walkway and if you wish to walk it from start to end you should wear comfortable shoes as it is quite a long walk but it is worth it, but as you know there are other places like the Statute of Liberty, Empire State Building, 9/11 Memorial at where the World Trade Center was,etc.
We did not have dinner outside our hotel in Manhattan because  Hotel Elyseé had complimentary wine and cheese between 5 – 8 pm and it was not only cheese they had other snacks also. So this was very good for the budget. For lunch we preferred snacks in small eaterys where you find around every corner.
Last thing I would like to mention about USA is the price of fuel. We did a total of 2200 kms.  during this trip and I filled the tank 4 times and it cost me only $150!! Now this is insane compared to what we pay in Europe. No wonder they drive big trucks like the Dodge Ram or the Ford F-150 with 5.7 lt. gasoline engines. Fuel is the cheapest thing here.
When the time came to leave our hotel for the airport we were tired but we had a wonderful time during this two week trip. I don't want to mention about the political situation in US and currently between our countries as you can read it  on the internet with all the details. However I would like to mention that the average American does not know what is going on outside his/her town let alone the country.
Looking forward to other trips….
Kutluk Armaoğlu
October 2017