HALKIDIKI
June 2017
(To enlarge the photos just "click" on them and then to the "back" button in your browser to return to the text)
A friend of ours who has spent 10 years in Greece as journalist with whom we were together during our trip last year to the island of Chios, suggested that we should plan a trip to the Halkidiki region of Greece. We organized the trip well in advance, which was good thing to do becuase as time past the hotel prices sterted to increase. We were a group of 7 persons and travelled with two cars and this trip took 9 nights and 10 days including travel.
First of all I would like to start where Halkidiki is. As a matter of fact I had never heard of this region before our friend mentioned to us. Halkidiki is the three peninsulas that is located on the southeast part of Thessaloniki which sticks out like three fingers. The names of the peninsulas are, Kasandra which is on the west, Sitonia on the center and Athos which on the east side. Especially this last one is a very interesting place which I will mention in detail further below.
On a bright Saturday morning we left İstanbul and after a nice lunch in Tekirdağ we arrived at the border town of İpsala around 2 pm. Since we were travelling by car we had to buy a green card which is called "Triptik". In the old days the Touring Club of Turkey would issue these – still does – but now you can purchase it from your local insurance agency. To avoid loss of time at the border we purchased these beforehand. This document which is valid for 15 days cost 52 Euros. Our normal car insurance does not cover abroad so I bought an international car insurance for 15 days for 35 TL. Regarding the driver licence , if you have the new licences that is issued by the Turkish police you do not need an international licence, however if you still have the old one and have not changed yet you have to get an international licence which cost about 300 TL. Because of this if you are planning to go to abroad by car I would strongly suggest that you cahnge your licence to the new one asap.
The formalities both on the Turkish side and on the Greek side are quite easy and if there is no congestion you can pass very quickly. I think that during Bayram holidays it would be quite congested.
Our first stop after İpsala was the town of Dedeağaç or by its Greek name Alexandroupoli.
Dedeağaç / Alexandroupoli:
We planned to spend one night in this town and the hotel we had selected – Hotel Erika – happened to be a very nice and clean hotel. Alexandroupoli is a small compact town. You can find people speaking Turkish every where, even the menus in the restaurants are in Turkish. The Greek islands that we had travelled in the past were like this also, however the further you travel south the less you find people speaking Turkish. The menus may not be in Turkish everywhere. As you may know, Dedeağaç/Alexandroupoli, Gümülcine/Komotini, etc. are in the area called West Thrace and there is a big Turkish population living here and is an area of a big dispute between Turkey and Greece. Although the attitude of the Greek government has changed positivly in the last years, still is an area of friction between the two countries.
After settling in the hotel we started to discover the city. There is a long promenade by the sea and on it you can find many restaurants and cafes. Also there is a huge lighthouse on this street. After sitting in one of the cafes by the seaside and having our cold beers we went back to the hotel to get ready for dinner.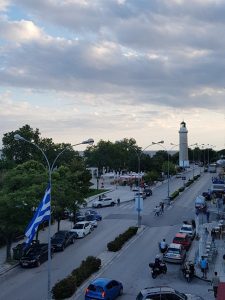 The promenade in Dedeağaç and the lighthouse
In the meantime we have observed a strange thing in Dedeağaç which we also saw in other places. All the shops are closed after 4 pm. The Greeks like to enjoy theri lives, you wouldn't think that there is an economic crises in this country.
For dinner we selected a restaurant which was suggested by a friend of ours who had been in this area a couple of times before. The restaurant Aya Yorgi was located about 10 kms. west of Dedeağaç in an area called Makri. (Please note that I have written comments on all of the restaurants that we ate and hotels that we stayed on Tripadvisor) We asked the reception of the hotel to book us a table when we had arrived. Surprisingly the lady at the reception said that "You are a group of 7 Turkish people, there is no need to book a table, they will find a place for you". This seemed odd but when we arrived at the restaurant we understood why she said so. The parking lot was filled by cars with İstanbul licence plates. There was a Turkish wedding here that night! The restaurants has two sections and on one there was the wedding and the other was the normal restaurant.
This restaurant is just by the sea and it has its own beach. Despite being crowded, they sure found a very nice table for us. The receptionist and the waiters all speak Turkish. Actually some of them were of Turkish origin. The menu was in Turkish also. We had a very nice dinner and then called the taxis and went back to town. I don't know if it was because of Saturday night the town was bustling. All the cafes, restaurants were full with young people, music from everywhere, all of them having fun.After hanging out and looking around we went back to our hotel.
Gümülcine / Komotini:
After breakfast we started our journey towards Thessaloniki. However before that we stopped by a gas station to fill the tanks (by the way being Sunday there was only one gas station open). We made a mistake by not filling gas back in Turkey before leaving because gas prices are more expensive in Greece than in Turkey. My suggestion is that if you travel to Greece from Turkey fill her up here.
On our way to Thessaloniki there are two important cities: Gümülcine / Komotini and Kavala and we stopped by on both of them. As I mentioned before, Gümülcine is an area of dense Turkish population. First we stopped here. After finding a suitable parking spot we started strolling the Turkish part of the city. As I said it was Sunday and most of the shops were closed, however there was one open and the owner wellcomed us and he recognised our friend who had worked as ajournalist here. Seeing this other people came and we started chatting. Being Turks all of them speak fluent Turkish and Greek. What we learned was that in the past, the suppression of the Greek government was so big that a Turk was not allowed to even repair a leaking roof in their house. However after the economic crises, if you had money you could do anything you want, no one would care. As you can understand, economic situtaions have great influence on governments' attitudes.
Streets of Gümülcine and the Turkish club
The people that we chatted told us that there was a Turkish club with an open air café and that we could go there and have coffee or soft drinks. This place had a sign on the entrance with the word "Türk" on it. This is interesting because before the economic crises they were not allowed to use the word "Türk" or "Türkiye" anywhere. The Turks would put up the sign, the local authorities would come and take it down, and they would put it up again and it would be taken down again….However as I said, now no one cared and they had this sign.
This club had a very big garden with big sycamore trees and the locals were gathered in groups, some chatting, and some of them were singing Turkish folk music. We joined this group and sang with them and they were very pleased with our presence. As you know there is also a great dispute about the Turkish coffee in Greece. In many places if you ask for a Turkish coffee in a restaurant in Greece they would say they only have Greek coffee. This place was the last place where we had a decent Tırkish coffee. In all of the other places where we asked for Turkish/Greek coffee, it was terrible. So, if you want a Turkish coffee next time in Greece be careful….
After leaving good memories behind we set off for Kavala.
Kavala:
On the way to Kavala there are many Turkish villages which is identified by the mosques you see. However after this region we have not seen any mosques which is normal. Kavala is built on the slopes looking to the Aegean see. We had lunch in one of the restaurants looking at the harbour and also here they brought you menus in Turkish also.
Views from Kavala…
Kavala is famous for two things. First one is a small pastry called "kurabiye" in Turkish and the other is "Mehmet Ali Pasha". Mehmet Ali Pasha is very famous in the Ottoman history and has cuased a lot of trouble to the sultan. This person has built an "imaret" here. "İmaret" is a place where the rich people built to help the poor. The poor would come here to eat and to stay. In the Ottoman Empire there were many of these scattered all around the empire. This was one of them. However, this building situated on a hilltop has been converted into a museum and a luxury hotel. After lunch we climed the hill and had our coffees in the hotel lounge. Now it was time to go to Thessaloniki.
The "İmaret"…
Thessaloniki:
Maybe you know, this city was the birth place of our leader Atatürk and we spent two nights here and left with very pleasent memories. We had booked rooms in Hotel Astoria and it was also a nice and clean hotel. As we had arrived late afternnon we asked the recepiton if Taverna Palati (again suggested by the same friend) was far away. It turned out that this one and all the other tavernas and bars which are located in the region Ladadika was just 5 minutes away from our hotel. We were very happy that our hotel was in an excellent location. Also this hotel is situated on the main shopping street. Because of this we never moved the cars from the parking lot during our stay here.
Thessaloniki….
Ladadika is the entertainement center of Thessaloniki. Being summer, everyone was sitting outside, live music playing and people having fun. Although there was live music on all of the tavernas, the volume was so adjusted that there was no cacaphony and everyone was happy. The food in Palati was wonderful and as the night went forward the level of enjoyment increased and people strted to do the "Sirtaki" – Greece's famous folk dance.
I would like to mention about the prices at this point.  The prices in the mainland Greece doen't have anything to do with the prices we enjoyed in the Greek islands in the previous years. It is almost 50% more expensive here than in the islands. The only place we found where the prices were comparible to the islands was in a small restaurant in a small village in Sitonia. Other than that a decent meal – drinks included – is around 30-35 Euros. I think one of the main reasons is that the Turks have spoiled the Greeks by saying that "Greece is very cheap". However the dishes are large and do not compare to the ones in Turkey. For example in the restaurants in Turkey the starters which we call "meze" are served in very small plates whereas here they are quite big.
Our programme for next day was to visit the house where Atatürk was born and which is a  museum now. This museum is located in the garden of the Turkish consulate. One of our friends who we were travelling together with is a retired ambassador and he phoned the consulate and got an appointment for the next day. The reason was that the museum is closed on Mondays and if we had not an appointment we could not visit. In the morning we took two taxis and went to the consulate. The consul and his wife were very kind and hosted us in an excellent manner. They showed us the museum personally and gave us a lot of information. I would like to express my thanks once again.
The house where Atatürk was born and the pomegrenate tree in the garden of the house which was planted by Atatürk's father.
As I said the museum is within the garden of the consulate and is very well kept. However during the past before it was bought by the Turkih government and turned into a museum it has changed hands quite a lot and therefore the original furniture was lost. They have restored it and made replicas of the furniture from old photographs of the house. The Koç Group has contributed a lot in renovating the house and turned it into a beautiful museum.
Let me mention about the location of the Turkish consulate. The front is on one of the big avenues of Thessaloniki. The other sides are surrounded by narrow streets and run down apartments which are about 10 meters away from the surrounding walls. This is not a very rich area of the city. I have not seen the west parts but the parts of Greece that I have seen is generally not very rich. Our consul explained to us that until about 5 years ago, people would throw garbage, and all kinds of nasty things into the consulate garden from their balconies and windows. The former consul did a very wise thing and invited the Arcbishop of Thessaloniki to the consulate and showed him around. According to the Orthodox  belief, the land which the archbishop has set foot becomes a holy ground and after that all of this throwing of garbage, etc has stopped. However on the national days for the Turkish people like 29th October, 10th of November they are hanging their dirty underware in the balconies 😊. Also in front of the consulate there is a bus full of police to protect it from terrorists. However when the protestors come in groups and throw molotov coctails, the police does not interfere just watch.
Aftre saying good-bye to our hosts we stopped by on one of the Turkish shops situated on one of the side streets and had a nice chat about their lives in Greece and then set on foot to discover Thessaloniki.
After a long walk we came to the area where the famous "White Tower" is located by the sea side and stopped in a café for lunch. After lunch everyone scattered around on their own to explore the city. Me and my wife walked the shopping district and then sat in a café in on of the large squares and had our cold drinks. Thessaloniki has very nice promenade by the sea and resembles İzmir in Turkey. However as I said before, after 4 pm all shops close 😊.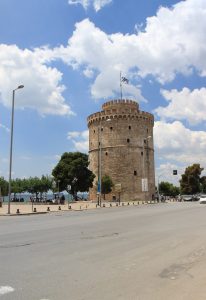 The White Tower.
For dinner again we chose another tavern in Ladadika but this time we only had "meze" no main courses. After dinner we went to a place called "Kitchen Bar" by the sea and you can have dinner or only drinks and enjoy the view of the city. This place is strongly recommended. That night we were very lucky and full moon rose just across the city behind the surrounding hills.
Next morning after a good breakfast we started our journey towards "The Great Beach Hotel" where we would stay for 3 nights and which is near Kriopigi in Kassandra.
Kassandra / Kriopigi:
Thi place was about one and a half hour away from Thessaloniki and we arrived here without any problems. This hotel is in a very good location but it is not a very good one. As I said before you can read my comments in Tripadvisor. The only good part is the beach. The beach is about 2 kms. in length but this is all. We did not use the beach too much during our stay as we went exploring other places, but I will say that I will not stay in this hotel again.
We arrived around noon,  and the hotel was working so efficient!! that it was about 4 pm when we finally got our rooms. You have to pay for whatever you drink or eat, even at the breakfast you have to pay € 2.5 for a bottle of water. It is outrageous!
As I said the beach and the color of the sea is beautiful and is an excellent beach for families with young children, you can let the kids play without any danger. However there is a small problem – the quality of sea water. If you do not have a good shower after you swim, the sea water becomes sticky on your skin. We could not understand why, and we have not encountered such a thing in other places, maybe the water was polluted. After we settled in our rooms we went down to the beach and as we were hungry we decided to have a late lunch at the "Beach Bar". However it was very expensive. For example a club sandwich wich cost usually around €5 everywhere, was € 12 here. The customers were generally from Serbia and Bulgaria we only met one Turkish customer.
The beach of Hotel Alexander the Great
For our first dinner we went to a restaurant called "Trizoni" in Kriopigi. This is not by the sea but on the main road but the food was excellent. We had outstanding sea food and everything was fresh and cooked very well. For example during our 10 day trip we had the best olives in this place  I can strongly recommend this restaurant.
During our second day for lunch we chose the restaurant "Agora" which is located at the end of the beach near our hotel. The food was also good here and surprisingly the sea was cleaner in this part and no "sticking". Also this part of the beach is a "stress free" zone meaning families with kids don' come to this part. For dinner we went to a small and lovely town north of Kriopigi called Afitos and went to the restaurant "Thea Thallassa" – all of these restaurants were suggested to us by people who were in this area previously. Afitos is a town you must see if you are in this area. It is located on a hill and has narrow streets with cafes and bars and people enjoying themselves. The restaurants are located along a road which is on a cliff over looking the sea and have excellent views. Thea Thallassa is one of them. We had booked a table previously otherwise it would have been impossible to find a seat. The restaurant has two sitting areas. One is on the sidewalk on the right hand of the road which is open air and has no cover, and the other is in the main restaurant on the left hand side of the road. Both have very good views. Initially we sat on the road side but as time passed on clouds started to appear and it seemed that a heavy rain was coming so the waiter moved us to the main part which was covered. As we expected, a very strong rain came and we were saved by him. The food in this restaurant is also very good but they are very strict in their pricing policy. Usually you can bargain for the fish but here they do not move a centimeter. So we had nothing to do but accept.
Night life in Afitos and Thea Thallassa
The next day we decided to travel to the south part of the peninsula. What we were aiming for was to find a quite small bay with a beach and a small modest restaurant where we could pass the day and enjoy ourselves. First we stopped by a small town called Polychrono and had a coffee by the seaside. However this place was extremely crowded and very noisy. It reminded me of the small town called "Erdek" in Turkey which we used to go for summer holidays when I was a kid. Not a good place to spend time. We continued towards south and found some "beach clubs", but these places are designed especially for young people who like to listen to loud music and is full of beds side by side and no peace at all. We found a place like we wanted but the restaurant was not very clean so we decided to go to the west side of the peninsula. Fortunately we found a small town called Nea Skioni and a small hotel with a beach and a very good restaurant. We stayed here and enjoyed the sea and the good food. The hotel was run by a family and they were very friendly. Late in the afternoon we passed thru the mountain roads and came back to our hotel which we would spend our last night.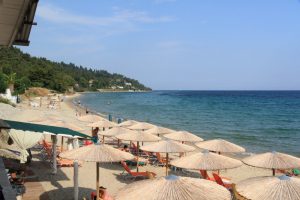 The beach at Nea Skioni
Athos / Ouranoupoli
The next morning after breakfast we took the road which would take us to the town called Ouranoupoli, which is located on the Athos peninsula where we would stay in Hotel Xenia. We follwed Google maps and it took us over the mountains without entering "Sitonia"  – the peninsula in the center. The hotel we stayed belongs to the same chain which we just had left. However this one is better kept and a little bit better in quality. Especially the location of the rooms were excellent. You could nearly jump into the sea from your balcony. However both this one and the previous one need a big renovation. As before everything you drink and eat you have to pay extra.
The beach of Hotel Xenia looking toward Ouranoupoli and the sunset…
However I would like to mention especially about Athos. The name comes from the high mountain which is located on the south of the peninsula. This place is a very interesting one as it is an autonomous region within Greece seperated by a border line just south of Ouranoupoli and which is funded by the Greek government. This region is a religous area full of monasteries where only men can enter. In the past there were around 100 monasteries but now there is about 25 of them. They have their own border patrol and own police force. If you want to enter here, they have an office in the city and you have to go there and apply and state why you want to enter. If they like you they allow you to enter. As a result you can only watch the monasteries from the sea and the boats are not allowed to come closer than 500 mt. to the coast. During the Ottoman Empire these monasteries were not touched but the number had decreased.
The monasteries at Athos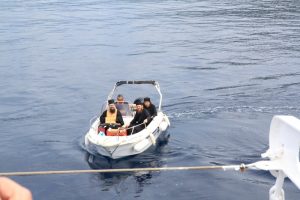 Priests arriving with the Zodiac…
The next morning we took a boat tour which takes you down the coast and shows you all the monasteries and there is a guide which gives you a lot of information. This tour takes about 3 hrs. On the boat there were all kinds of people and you see very religous women praying all the time. These tour boats are also a quick way of transport for the monks and priests that reside in these monasteries. For example our boat stopped across one of them and a few priests came with a Zodiac boat and transferred to our boat which took them to Ouranoupoli. As a result this trip was very interesting for us. However one of the things that we could not understand was the huge monasteries and the number of people staying here. For example the guide showed us a monastery built to accomodate 1600 people but only 25 were staying. How can they keep up the place? It will eventually rot.
Eating in Ouranoupoli is also excellent as is every where. The first night we had dinner at a restaurant aclled "Athos" which was walking distance from the hotel – as a matter of fact everywhere in Ouranoupoli was at a walking distance from the hotel. I can highly recommend this restaurant. Very good food. The second evening we ate in the city by the sea at "Lemonidias" which was also very good.
During our last day here, the weather was quite windy and we decided to go to Sitonia and we planned to go to this nice holiday town called Vourvourou. This place is really a beautiful area. The scenery is wonderful. They have many restaurants and beaches by the sea, however we could not find a place for our taste, maybe becuase it was Sunday and was very crowded. Therefore we took the road we came and went to the small town of Pyrgadikia which we had passed on the way and settled at the restaurant "Taverna Romantica". It had a beach in front a modest place good food and very good prices, similar to what we experienced in the Greek Islands. We had a very good time here and went back to our hotel for our last night in this area.
Scenery from Vourvourou
Pyrgadikia
The next day – our last – coming back to Turkey by mistake we took the road the road to Thessloniki instead of Dedağaç but before returning back we passed the small town up in the mountains where Aristotales was born. Although we lost some time this was a nice surprise.
Our last lunch during this wonderful trip was in Dedeağaç just before the Turkish border. We ate very good sea food in a very nice restaurant on the promenade and entered our country through the border at İpsala.
During our ten day trip we met with very nice people Turks and Greeks, visited the home of Atatürk, saw the "imaret" built by Kavalalı Mehmet Ali Pasha, saw new places like Athos and had a wonderful time. Looking forward for more wonderful travels….